October 11th, 2023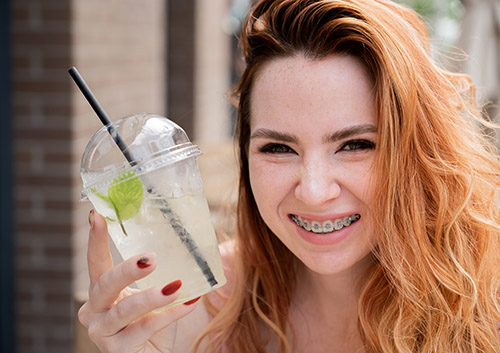 Your beaming smile makes a sunny day even brighter—and that sunny day can return the favor! How does the sun affect your dental health? Let's shine some light on the subject.
You may have heard how important calcium is to your body. Over 99% of the calcium in our bodies is used to form teeth and bones, providing strength and structure to the hardest parts of the body. But that's not the only task on the calcium to-do list. Calcium is also necessary for:
muscles to work
nerves to carry messages
blood to deliver nutrients and oxygen
the release of hormones
When we don't get enough calcium in our diets, our bodies start to draw the calcium they need for these critical functions from our teeth and bones. Over time, a severe calcium deficiency can lead to teeth that are brittle, or more vulnerable to decay, or loose due to weakened bone density in the jaw.
Keeping up with your calcium is especially important when you're wearing braces or aligners. Calcium helps protect you from tooth decay and gum disease, which could delay your treatment. And you want your jaw bones strong and healthy as the bone tissue reforms and then stabilizes around your teeth as they move to their new, ideal positions.
We can get the calcium we need from a balanced diet. Dairy products are our most common source of calcium, and several servings of milk, cheese, or yogurt each day supply most of our needs. If dairy's not on your menu, though, you can get calcium from other foods like broccoli, kale, collard greens, canned salmon, or sardines. Because calcium is so essential to our health, many foods are fortified with it, including fortified juices, bread, cereals—even tofu!
But there's a snag here, and it's a big one. We can't really benefit from our careful consumption of calcium without the help of vitamin D. If calcium is the doorway to strong teeth and bones, vitamin D is the key which unlocks all of calcium's benefits.
Without enough vitamin D, our bodies can't absorb and make use of calcium. However, getting enough of this essential vitamin can be a problem. While we can get most of the vitamins we need from a balanced diet, there aren't a lot of foods which are naturally rich in vitamin D.
So, how do we get this vital vitamin? The original option comes from nature.
Vitamin D is called "the sunshine vitamin" because of the unique chemical reaction which creates it. When the ultraviolet B rays of the sun reach special cells in our skin, they convert cholesterol in these cells to a basic form of vitamin D. These vitamin molecules travel through the body, picking up hydrogen and oxygen molecules in the liver and kidneys to become active vitamin D.
Since sunlight exposure is easy, available, and free, it seems like a simple solution to getting the vitamin D we need.
But we've understandably moved away from the days of basking in the sun for hours at a time. Over-exposure to UV rays damages the skin, causing premature aging and, worse, a much greater risk of skin cancer. If you enjoy time in the sun, talk to your doctor about safe sun exposure, which can depend on the part of the country you live in, the time of year, and your individual skin type.
And, if you need to avoid sun exposure, there are other opportunities for getting the vitamin D you need.
While there aren't a lot of foods which are naturally rich in vitamin D, there are still a few options on the menu. Oily fish like salmon, tuna, and herring—and old-fashioned cod liver oil—are good sources of the vitamin. But most of us don't live on a strict fish diet!
Instead, we can get the vitamin D we need from fortified foods. Vitamin D is commonly added to cow's milk, soy milk, orange juice, and cereals to make sure the calcium in our diet is working effectively to keep our teeth and bones strong. Check out nutritional labels to discover whether your favorite grocery products contain vitamin D. And don't forget to choose foods that are braces-friendly, as well!
For hundreds of years, people who lived in climates and cities without a lot of sunshine suffered from the effects of vitamin D deficiency. Diseases like rickets, where the teeth and bones don't form properly, were common in children. Adults who couldn't absorb enough calcium suffered from weak teeth and bones.
Today, depending on age, allergies to sun or food products, dietary choices, and health conditions, some people are still at risk for vitamin D deficiency. If you've been diagnosed with this deficiency, your doctor might recommend a vitamin D supplement. (It's important to take any supplement as directed, because taking too much vitamin D can be harmful, too.)
So, which form of vitamin D is best? Fortified foods? Supplements? Or is it that radiant original source—the sun? No need to worry. With any form of vitamin D, you're getting the key you need to unlock the benefits of the calcium in your diet—for healthy teeth and bones before, during, and after your treatment at our Sparta or Livingston, NJ orthodontic office. Your sunny smile will thank you!