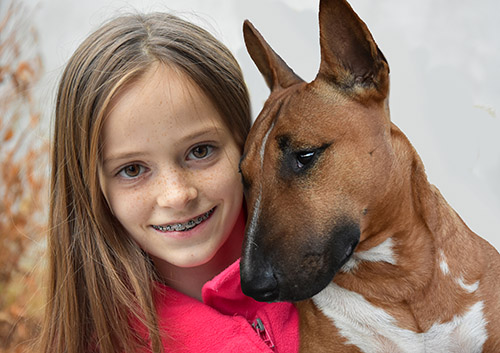 We often think of braces as a rite of passage for kids in middle and high school. So you might be surprised when your child's dentist recommends a visit to see Dr. Douglas and Larry Harte years earlier than you anticipated. In fact, dentists and orthodontists generally suggest a visit to the orthodontist by age seven at the latest.
Why see an orthodontist so early?
After all, your child is still growing, and many adult teeth haven't come in at that age. And that's the whole point.
Around this age, your child will probably have a mix of both baby and adult teeth, so your orthodontist will be able to assess whether there's enough room for the permanent teeth to erupt without crowding or spacing problems. And malocclusions, or bad bites, caused by problems with jaw size or symmetry can be addressed while young bones are still forming and developing.
If your child has a first appointment coming up on the calendar, here's a heads up on what often happens during a first visit, and potential problems your orthodontist will be on the lookout for.
What can you expect at a first visit?
The first visit is designed to evaluate how your child's teeth and jaws work together now, and to look for potential future problems with tooth alignment and jaw structure and development.
First, Dr. Douglas and Larry Harte will carefully examine your child's teeth, jaws, and mouth. Your child will be asked to bite down several times to see how the teeth and jaws fit together, and if there's any discomfort. Other helpful diagnostic tools could include:
Scans or X-rays to evaluate jaw structure and the position of teeth which haven't erupted yet
Photos of your child's teeth and face
An impression of your child's teeth
If there's no immediate need for treatment, we might recommend periodic checkups at our Sparta or Livingston, NJ orthodontic office to follow the growth and development of your child's teeth and jaws. If interceptive (early) treatment is your child's best option for a healthy smile, your orthodontist will explain any immediate orthodontic issues and design a treatment plan tailored to your child's specific needs.
What are the benefits of early treatment?
Interceptive treatment not only helps correct current orthodontic problems, it can help reduce the need for more complicated treatment in the future, when all of the adult teeth have arrived and bones are fully formed. Among its many benefits, early treatment can:
If your child has a small upper palate, it can be gently enlarged while the palate is still growing with the help of a palatal expander. This will give the upper teeth the space they need to come in without crowding.
If primary teeth are lost too early, other teeth can shift out of alignment to fill the empty space. A space maintainer can be custom-made to keep the spot open until the right tooth is ready to erupt. If primary teeth are overstaying their welcome, Dr. Douglas and Larry Harte might recommend extraction to allow the adult teeth to erupt in the proper place.
Malocclusions can develop because the upper or lower jaw is too narrow, too far forward, too far back, or the jawbones don't fit together properly. Dr. Douglas and Larry Harte might suggest the use of a functional appliance such as the Herbst® appliance or headgear to help guide symmetrical bone development while your child's young bones are still growing and forming.
Children with overjets, or protruding upper teeth, are more likely to suffer chips, cracks, and other trauma to those vulnerable front teeth. Functional appliances can help bring the upper and lower jaws into alignment as needed, and braces can move the teeth into alignment.
Every journey to a healthy smile begins with a first visit. And you don't need to wait until your child is seven. Any time you're concerned about an orthodontic issue is a good time for a consultation. Talk to Dr. Douglas and Larry Harte about what to expect at your first visit to help create a comfortable experience for your child as you begin this journey together.