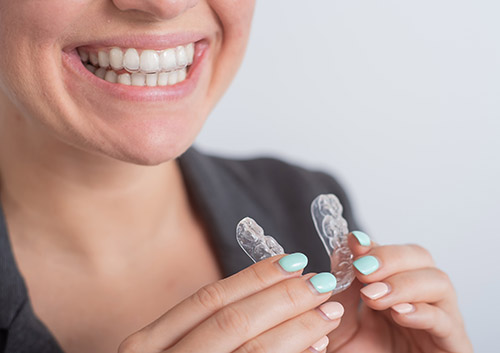 Brackets and wires, clear aligners, lingual braces, regular brackets, self-ligating braces, elastics, spacers—you and your orthodontist have had to narrow down a lot of choices to discover the best treatment for your orthodontic needs. Now that the end of treatment is in sight, there's one more important choice left—your retainer!
Do I Need a Retainer?
No retainer at all is probably the one option that's off the table from the start. It's not just your teeth that have changed position; it's the bone and ligaments holding them that have changed as well.
A retainer prevents your teeth from moving away from their new, ideal location while your bones and ligaments are stabilizing. This process takes months, so keeping your teeth in place as your bone rebuilds and regains density is crucial.
What Are Your Retainer Options?
Three of the most popular retainer options available at our Sparta or Livingston, NJ office include:
This is the traditional retainer, with wires to hold your retainer in place and to keep the teeth properly aligned. The wires are attached to an acrylic plate molded to fit the roof of your mouth or around your bottom teeth. You can customize the acrylic base with colors and patterns for a one-of-a-kind look.
Hawley retainers are adjustable, so minor realignments can take place if necessary. The wire in front of your teeth makes these retainers visible, but, after several months of wearing them all day long, you may end up wearing them only at night.
Hawley retainers are removable, so you need to make sure they are safely in a case when you're not wearing them. Minor damage can often be repaired, but it's better to be proactive.
These retainers look like clear aligners. They are formed by heating a thin piece of plastic and vacuum-forming it around a model of your teeth to create a custom, comfortable fit.
Clear retainers are almost invisible when worn, and can be removed when you eat or drink—which they should be, because food particles and liquids can be trapped inside them.
When you're not wearing it, a clear retainer should always be in its case, because it must be replaced if the plastic is warped, cracked, or broken.
A fixed retainer is a small single wire bonded to the back of specific teeth, commonly the six bottom front teeth. Because fixed retainers don't allow the teeth to move at all, they are often recommended for patients who had serious misalignments, extremely crowded teeth, or teeth with large gaps between them.
Many patients like fixed retainers because they keep teeth in perfect alignment, they won't be seen, they're comfortably small, and they can't end up in the cafeteria recycling bin because you forget to replace them after lunch!
Fixed retainers are usually quite durable, but you'll need to pay attention to your diet, because crunchy and chewy foods can put pressure on the retainer and damage it. These retainers also require special care with brushing and flossing, to make sure the teeth bonded to the wire stay clean and plaque-free.
The Right Retainer
The process of stabilizing your teeth in the jaw takes time. Choosing your retainer will depend in part on how long and how often you need to wear it: fulltime for months or for years, at night after several months of day-and-night wear, or long-term to make sure your orthodontic work lasts.
And there are other variables, as well. Your retainer might need to be removable. It might need to be adjustable. You might need a retainer for just your upper teeth, just your lower teeth, or both. All these factors and more need to be taken into consideration before deciding on your ideal retainer.
Fixed, removable, wire, plastic, colorful, clear—which retainer is right for you? The one that helps you retain the beautiful smile you've worked for all these months. Talk to Dr. Douglas and Larry Harte to discover the retainer that will protect that smile for years to come.