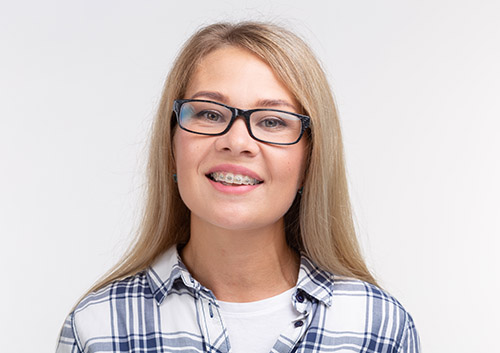 Now that you've graduated from your braces or aligners, you might think you're finished with orthodontic cleaning tips. Not quite yet! Your retainer needs love, too—not just because it can look or smell "less than appealing" without your help, but because it's good for your dental health.
Removable Retainers
If you have a Hawley retainer or a clear retainer, cleaning it whenever you remove it is a great idea. Unappetizing white patches mean plaque or mineral deposits from your saliva have dried and hardened on your retainer's surface. And if you notice an unpleasant taste or odor, it probably means that germs and bacteria have made themselves at home and are growing in and on your appliance.
You don't want old plaque or new bacteria in your mouth! Here are some ways to keep your retainer clean and fresh:
After wearing it, you can clean your retainer with a toothbrush, but don't brush too vigorously. You might scratch it. Use a soft or even extra-soft brush to clean out all the nooks and crannies, and then rinse.
Use cleaning products which have been recommended by Dr. Douglas and Larry Harte if your retainer needs a deeper clean. Denture cleaners, retainer cleaners, and even toothpastes can be too abrasive or cause discoloration, so use the products made for your specific retainer.
Let your retainer dry before storing it in a dry place after cleaning. Shutting a damp retainer into a closed case provides bacteria with the damp, dark environment they thrive in. (PS—clean your case regularly, too!)
One of the benefits of a clear retainer is that it's almost invisible. And you can help keep it that way by removing it whenever you eat or drink. Your retainer can become stained from colored foods or liquids.
Fixed Retainers
A permanent retainer is a small piece of wire that is custom-fit and bonded to the inside of selected teeth to keep them from shifting. Because food particles and plaque can accumulate around a fixed retainer, brushing after meals and at least twice a day is recommended. Bacteria and plaque cause bad breath, cavities, and tartar buildup, and removing tartar might require removing your retainer.
While a fixed retainer can be tricky to clean, there are techniques and products that make cleaning easier and more effective:
An orthodontic toothbrush with a smaller head might reach behind your teeth more comfortably.
Don't forget to floss! Using a floss threader will help you get that wriggly floss behind the retainer and between your teeth.
Try a water flosser. These handy devices direct a stream of water right into hard-to-reach places for more thorough cleaning.
If you're having trouble keeping your retainer clean, our Sparta or Livingston, NJ orthodontic team can teach you all you need to know about tools and techniques to keep your retainer—and your teeth and gums—healthy. An attractive smile is a great thing. A healthy, attractive smile is even better!