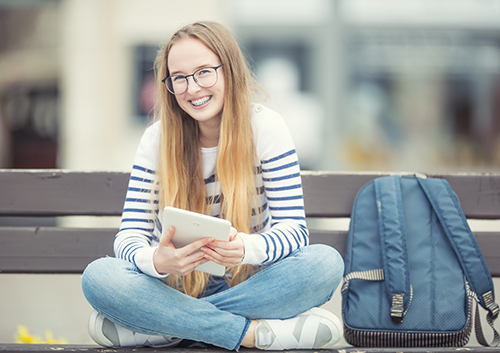 "Yes," you're thinking, "I shouldn't be chewing sugary, sticky gum while I'm wearing my braces." Or perhaps, "I should check with my orthodontist to see if this sugar-free gum is safe for my braces." And these are both great thoughts—but today, we're thinking about gums of a different sort!
While you've been taking care of your teeth with regular brushing and flossing, you've also been taking care of your gums. And now that you're wearing braces, your gums need a bit of special attention to keep them their healthiest.
We tend to think of gum disease as an adult problem. In fact, periodontitis, or serious gum disease, is one of the most common chronic infections in the adult population. But young gums need care, too! Gingivitis, a milder form of gum disease, is unfortunately a common problem for both children and adults.
Gingivitis is an inflammation of the gums caused by the build-up of plaque and tartar. When plaque builds up, it irritates delicate gum tissue. And while gingivitis is not as serious as periodontitis, the symptoms caused by this disease are nothing to smile about:
Redness
Tenderness and soreness
Swelling
Bleeding
Bad Breath
If you're already feeling a little tender or swollen after an adjustment, the added discomfort caused by gingivitis is the last thing you want. But even worse, neglected gingivitis can lead to more serious infections of gum and even bone tissue. Luckily, gingivitis is both preventable and treatable with proper dental care.
So, how to protect your gums? We have some suggestions.
Brushing Better with Braces
It can be hard to brush around your brackets and wires, but keeping these areas free of food particles and plaque makes for healthy gums—and fewer cavities! There are specially designed manual toothbrushes made for braces wearers, and tiny interproximal brushes that can reach tight spaces. Or, perhaps an electric toothbrush will do a better job for you. Just be sure to brush after each meal for the most complete removal of bacteria and plaque.
Learn New Flossing Techniques
You might wonder how on earth you'll get in between your teeth with your wires and brackets in the way. We have the answers! We know the best techniques for flossing your specific braces, and we'll recommend specially designed flossing tools to make the job easier. Water flossers can also be a great help for cleaning in tight spots. Be sure to make flossing part of your daily routine—you'll be able to remove plaque from places brushing just can't reach.
Talk to Dr. Douglas and Larry Harte about the best dental rinses for reducing plaque and tartar, or how gargling can help prevent irritation. And drink water! Water helps wash away plaque and bacteria, and is a great way to rinse teeth and braces if you absolutely can't brush after eating.
Keep up with Professional Cleanings
Be sure to keep up with your regular dental exams and cleanings. Your dentist or hygienist will be able to remove any plaque or tartar build up that home brushing can't handle.
We want your time in braces to be as healthy—and comfortable—as possible. If you have any gum discomfort, swelling, or sensitivity, give our Sparta or Livingston, NJ office a call. With prompt action, gingivitis can be treated, and with careful attention to your cleaning routine, gingivitis can be prevented altogether. Something to think about!