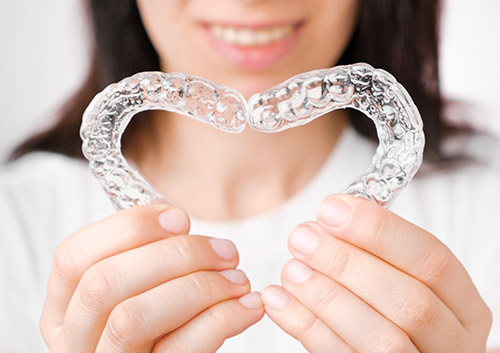 Even with the best of care, accidents can happen, and your retainer, unfortunately, is not immune. Of course, you need to visit our Sparta or Livingston, NJ office ASAP if your retainer is damaged, but, in the meantime, there are some strategies you can use to help your teeth—and your retainer—stay as healthy as possible while you wait.
For Removable Retainers
When you notice any damage to your removable retainer—remove it.
Don't wear a damaged retainer, especially overnight. You don't want to damage it further, and you do want to avoid the possibility of choking if a retainer breaks while you're sleeping. Dr. Douglas and Larry Harte and our orthodontic team are experts when it comes to deciding if your retainer is wearable, so always consult an expert before putting a suspect retainer back in your mouth.
If you have a Hawley retainer—the traditional wire retainer—here's some good news: a Hawley retainer can often be repaired if it's not damaged too badly. Don't try to fix your retainer yourself, and bring it into our office as soon as possible to see if it's fixable.
If you have a clear retainer, let's start with the bad news: A clear retainer is not a repairable retainer. Cracks, breaks, warping—these injuries mean that a new retainer is in your future.
The good news is that materials for plastic retainers are available that are more durable than ever. This might be a good option for you to check out, especially if you suffer from bruxism, or tooth grinding, which can be very hard on clear retainers.
When you've just finished treatment with clear aligners . . .
It's worth asking if your last tray can sub for your retainer until you have it repaired or replaced.
Ask us about over-the-counter mouthguards.
While you wait for a retainer repair/replacement, your teeth are at risk of shifting out of alignment. A customizable OTC mouthguard might reduce the chance of shifting, although it's definitely not a long-term solution! We can let you know if this temporary fix is worth it.
For Fixed Retainers
If the wire retainer bonded to your teeth becomes loose, or if you notice your teeth shifting, you might need a repair or a replacement. This is a job for us. In the meantime,
When you have a broken wire . . .
If a broken wire is causing discomfort, check to see if you should flatten it or cover the wire tip with dental wax to protect soft tissues. Warm water rinses can ease irritation.
When your wire is broken or loose . . .
Stay away from chewy, sticky, and crunchy foods. You should be doing this anyway with a fixed retainer to keep it from becoming detached—and if it's already loose, no need to make it more so!
Ask us about over-the-counter mouthguards.
Check to see if an OTC, customizable mouthguard is a good idea to keep your teeth from shifting if you can't visit Harte Orthodontics right away.
We started off by saying that accidents can happen even with the best of care. So you can imagine what can happen without the best of care. Keep your retainer in its case, keep it away from heat, don't eat foods that can harm your retainer—all the precautions that make accidents unlikely to happen.
But if something awful befalls your retainer, call our Sparta or Livingston, NJ office right away. Why aren't we suggesting ways to fix your broken retainer with the supplies you have in your home toolbox? Because the best life hack of all for someone with a damaged retainer is to leave the fixing to a dental professional.