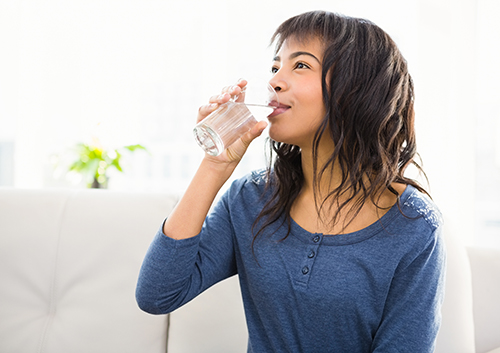 One of the many benefits of your clear aligners is that you can remove them to eat. You should brush after every meal, just like you would with traditional braces, but cleaning your teeth is much easier without having to work around and between brackets and wires.
But when you wear your aligners 22 hours a day, you might be tempted to leave them in when you're just having a sip of something when you're thirsty. Unless you're drinking water, please don't.
What's the problem with a can of cola or a cup of coffee?
The virtue of your clear aligners is that they are, well, clear! Probably one of the reasons you decided on this method of treatment was because you liked the idea of an inconspicuous appliance. Unfortunately, dark beverages such as colas, coffee, tea, and red wine can stain your aligner, making it more visible.
Very hot beverages might actually affect the shape of your aligners. Since they are formed using heat, it makes sense that heat can also de-form them. If hot teas and coffee drinks cause a change in the shape of your aligners, they will not move your teeth the way they were meant to.
Even though our enamel is very strong, sugary and acidic drinks can damage it. Acidic foods can erode enamel, and the sugars in our diet provide food for cavity-causing bacteria, which then produce acids that erode enamel.
Normally, saliva provides some protection from acids and sugars by diluting them and washing them away from the teeth. When you drink a cola or an orange juice with your aligners on, some of the liquid will get in them, and can stay in them until the aligners are removed. You will actually give these problem beverages the opportunity to bathe your teeth in sugar and acid over a longer period of time, without exposure to saliva to help offset potential harm. And after all your work to create a beautiful smile, you certainly don't want new cavities!
How to protect your aligners and keep them their cleanest—and most invisible?
Take your aligners out before drinking beverages that can stain them, or, if you can't, try using a straw. Clean your aligners according to Dr. Douglas and Larry Harte and our team's instructions to keep them as clear as possible.
Don't drink very hot beverages with your aligners in place. Try icing your coffee and tea if you can't remove your aligners. And if you think your aligners have changed shape, please give us a call.
Drink water! Water hydrates you, doesn't damage enamel, and keeps your aligners clean. Tap water is your best option, as even bottled waters can be acidic.
If your aligners should become stained, remember that you change them frequently, so the staining can be a temporary problem. If you do have a drink of something hot and your aligners feel "off," give our Sparta or Livingston, NJ office a call. We'll let you know if you need to replace them.
But prevention is always best! Avoid staining from the start by removing your aligners before you drink dark beverages. Don't expose your aligners to heat. Think about replacing unhealthy drinks with water. And certainly brush right away, or rinse with water if that's not possible, if you drink a sugary or acidic beverage. These simple precautions will help keep your aligners, and, most important, your teeth, looking their best.