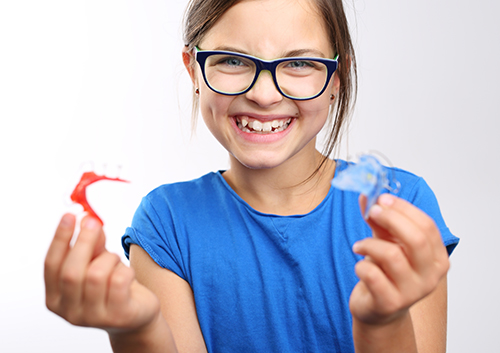 Perhaps you are already planning for the years when your teenager will need orthodontic work. But hearing that your seven-year-old would benefit from orthodontic treatment? That might come as a complete surprise! It's a recommendation with real benefits, though—early intervention can save children from tooth and bite problems now, and even simplify their future orthodontic care.
Treating young children for orthodontic problems is called "interceptive orthodontics." When the permanent teeth start arriving, there might be problems with spacing, bite or protruding teeth. Often, treatment while the bones are still growing is the best way to prevent more serious problems later.
We recommend that your child have an orthodontic consultation with Dr. Douglas and Larry Harte around the age of seven. This exam is especially important for children who may have been thumb suckers or used a pacifier after the age of three, or if you notice obvious teeth, speech or bite issues.
Crowding and Spacing Issues
Teeth are arranged in two crescent shapes called arches. When the arch of your child's mouth is small, the permanent teeth can become very crowded as they erupt. Formerly, teeth were removed to make more room. Now, early use of a palatal expander can enlarge the upper dental arch in order to help the permanent teeth come in without crowding. The need for future tooth extraction is reduced, and there is a better chance for correct spacing and alignment with early treatment.
On the other hand, when a child loses a tooth too soon, too much space left between baby teeth can also be a problem. The remaining teeth can shift, leaving the wrong place open for the adult tooth to come in. We might recommend a space maintainer so that there is no shifting of the teeth and there is room for the proper adult tooth to erupt in its proper spot.
Malocclusions (Bite Problems)
Some malocclusions, like a crossbite, can be caused by problems with jaw and facial structure. Again, we might recommend a palatal expander to help the upper arch of the teeth to fit properly with the lower jaw. Problems with overbite, open bite and other bite issues can also be addressed at this age if necessary. Early care can discourage TMJ (temporomandibular joint) disorders, reduce speech problems, and improve facial symmetry.
Teeth that protrude are much more likely to be damaged when playing or after a fall. Methods such as braces or appliances can reposition them and protect them from breaking or fracturing.
Many children will not need early intervention, and many can wait until they are older for orthodontic work. But if your young child has orthodontic problems that should be addressed, early intervention can do more than set the stage for successful orthodontics in the teen years. Talk to our Sparta or Livingston, NJ team about what we can do for your child. Interceptive orthodontics can protect teeth, guide jaw and speech development, modify harmful oral habits and help to adjust bite problems before they become serious—when it comes to your child's dental health, the best solutions are early ones!