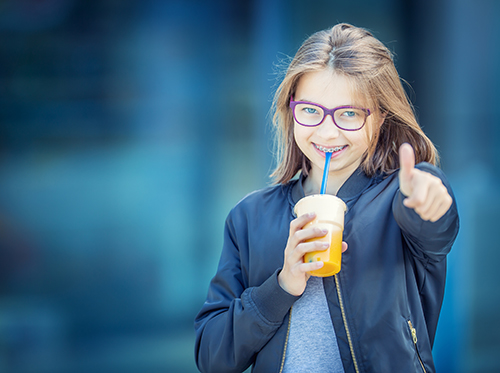 It's not unusual for a patient to be unaware of the range of services that orthodontists can provide for their patients. Knowing which services Dr. Douglas and Larry Harte and our team perform can help you better understand your options and why we might select a particular method of treatment.
Both orthodontists and dentists care about good oral health, but they approach treatment in differing ways. You know that dentists clean teeth and treat gum disease, tooth decay, toothaches, and other oral health problems.
But what does your orthodontist do besides help straighten teeth with the help of braces? Orthodontists are commonly known to help fix or realign crooked teeth. Many of the patients at Harte Orthodontics come in for appointments that relate to their braces.
Dr. Douglas and Larry Harte and our team recommend that children be seen around the age of seven to evaluate their potential orthodontic needs. Common problems may include overcrowding of teeth, large gaps or spaces, and overbites or underbites, among other things.
In order to address these common problems, we offer several methods of treatment besides standard braces and retainers:
Space maintainers can be used to fill the spaces left by missing baby teeth so other teeth don't shift and occupy the adult tooth's location.
Jaw repositioning appliances, sometimes known as splints, are used to reposition the upper and lower jaw bones correctly.
Lip and cheek bumpers can also be used to avoid having to pull teeth. These bumpers are placed in the mouth so the patient's lips or cheeks don't put pressure on specific teeth.
A more common appliance that orthodontists use is expanders. If your mouth is crowded, expanders will be placed on the curve of the upper and/or lower jaw(s) in order to make room for teeth to be properly aligned.
As a last resort, an orthodontist may turn to headgear. This is normally provided to slow down the growth of the jaw. It must be worn a number of hours each day.
When you visit our Sparta or Livingston, NJ office, we will go over these options with you and pick the best course of treatment, depending on the current state of your oral health.
No matter which oral appliances you end up with, Dr. Douglas and Larry Harte and our team will go over all the available options with you to give you a beautiful smile. If you have questions regarding your treatment method, don't hesitate to call our office and we can provide you with some insight.
Understanding the different options your orthodontist can provide should make matters less confusing if you should need to select a method of treatment.