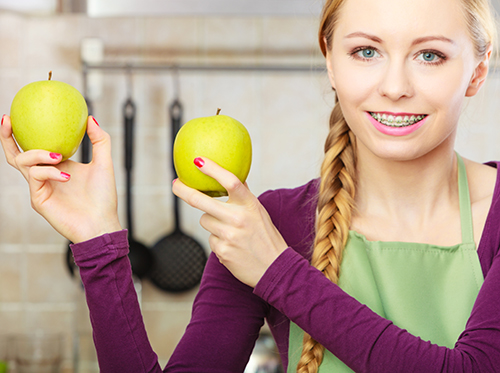 Having braces can be frustrating when you have to be cautious about eating certain foods or having to avoid them altogether. Making sure your braces don't bend or break is vital when you're trying to straighten your teeth quickly and properly. Dr. Douglas and Larry Harte and our team have come up with a list of foods to avoid, and which foods you can enjoy while you have braces.
No matter how careful you are, excessive chewing of hard-to-eat foods will eventually cause problems for you and your braces. Knowing what you can and cannot eat at a meal may be helpful when you first get your braces on.
Some foods are too hard for braces, because they can break wires or create damage that will have to be fixed by Dr. Douglas and Larry Harte. Avoiding the following snacks will prevent this from occurring:
Hard candies
Gum
Nuts
Popcorn
Some hard raw vegetables or fruits (carrots, apples)
Ice
Chips
There are plenty of safe options for breakfast. They include eggs, yogurt, pancakes, oatmeal, soft toast, bananas, and even bacon.
For lunch, avoid hard or abrasive foods, undercooked vegetables, or apples. Safer options include a delicious stew, soft-breaded deli sandwich, or a mixed salad. Always be careful when biting into foods, and try to cut solid meal items into small chewable portions whenever possible.
A healthy braces-friendly dinner can come in many forms. Soft, steamed vegetables paired with a lean protein make a great option. The addition of rice or quinoa can complete the meal. Just remember to brush and floss after, because these small grains are likely to get stuck between braces and teeth.
During your treatment, Dr. Douglas and Larry Harte will tighten your braces at each checkup. Braces tightening can sometimes leave your teeth feeling sore afterward. During this time, we recommend picking soft food options until the pain goes away, such as:
Pudding
Mashed potatoes
Soup
Ice cream
Cottage cheese
Peas
Pasta
Yogurt
Muffins
It's also essential to pay close attention to your oral health routine. When food is stuck between braces, you're more likely to experience plaque and decay buildup. If you want to keep your teeth from appearing discolored when your braces come off, keep up with brushing and flossing after every meal!
If you notice your braces are damaged after you've eaten a meal, contact our Sparta or Livingston, NJ office to schedule an appointment right away. Our team is here to help with any issues that come up while you are in braces, and to answer any questions you may have about which foods you can and cannot eat.